Dana & Wild have joined the Life Ball 2014 in Vienna together with the "Life Ball Family" and it's motto: "Garden Of Earthly Delights" / "Garten der Lüste".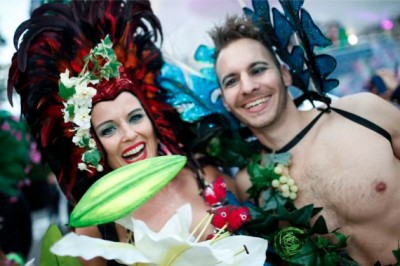 We entered the venue through the red carpet, had some drinks in the VIP area, went backstage and celebrated until in the morning in the town hall.
It was a very interesting evening with a lot of nice impressions, music, arts, fancy people and impressive costumes.
Et voilà, here are some impressions and our Life-Ball video with a brand new remix of "Dana & Wild – Bambambe" as the soundtrack (which will be available for purchase in july on this website).
Unfortunately there was only house music playing on every one of the 4 dancefloors in the town hall. So this could be improved in the future (@Life Ball crew: if you've got 4 dancefloors, try to play different music / have different djs on min. 3 of them).
On the other hand: the overall organisation of the venue was nearly perfect.
Support fighting AIDS, celebrate life. More info: http://www.lifeball.org
Related Posts
---
---
Your opinion on this?
Fatal error: Uncaught Exception: 12: REST API is deprecated for versions v2.1 and higher (12) thrown in /home/.sites/42/site7934606/web/wp-content/plugins/seo-facebook-comments/facebook/base_facebook.php on line 1273