Tour-operator: Dertour
Duration: Although the tour operator presents this sailing tour for 4 days/3 nights, it was just 2 ½ full days! The reason: we started our first day at 1pm and finished it on the fourth day at 8am.
Cost: 700 EUR in total per person (incl. all fees), fullboard. Drinks included only during meals.
Yesterday it was our last day at Lataniers Bleus. It rained the whole day! We'have been afraid, that this weather continues and we will get wet on our katamaran trip.
We had luck…
1st day – Port Louis, Pereybere
Today in the morning we went with our taxi driver to Port Louis – Caudal Waterfront, where the catamaran "Chaka" and it's crew Janik & Christoph were waiting for us.
Another couple from Germany was also on board, so we have been 4 people in total (there is a maximum of 8 people possible on board beside the skippers). The manager of the agency welcomed us and gave us a small briefing for the trip. The journey will lead us to the northern part of Mauritius.
At 2pm we departed to our first goal Pereybere. For me it seems like a sleeping tiny village,  like the dogs kuddling on the beach  you can see on the picture.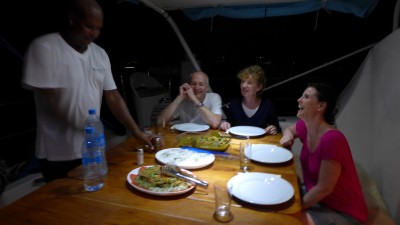 After we had enjoyed swimming in the bay of Pereybere we went to the supermarket there.
TIP: this supermarket is big and has good prices.
We bought some cocos liqueur to make some cocktails on our journey. Just mix the "Chamarel cocos liqueur" with some pineapple juice and ice – voilà.
See also our tips for shopping.
In the evening we had a delicious dinner. Homemade and served by our two skippers. EXCELLENT!
Janik and Christoph are not only good skippers but also excellent cooks. The food is very delicious and one of the best during our stay on Mauritius so far.
We are talking into the night with our new friends from Germany while the sea is calm,  we watch the stars and have some of our self made cocktails.
2nd day – Cap Malheureux, Ilot Gabriel
I got up at 8am this morning. I didn't sleep so well because of the loud noise of the boat engine. Everybody was waking up at a different time and we were curious how the breakfast will be. Again: it was delicious: fresh fruits, jam, toasted bread, eggs – whatever you need. Mmmmmh…
And here it was…the SUN, yeah! No rain any more. We had really luck to have this weather now after the rainy day before.
Then we moved on to our next destination: Cap Malheureux, famous for its beautiful church. I jumped in the sea and swam to the beach, while Wildcafe was working on our Mauritius song.
Next stop: Ilot Gabriel.
Although the waves were really rough there, our two skippers succeeded to get into the bay of Ilot Gabriel late in the afternoon after we've been sailing around 2 hours. They told us they're going in later, because there are many tourists on the island during the day. So we had the island and the beach for us alone.
I was really curious about this island, because it should be one of the nicest spots here on Mauritius.. It's awesome here, nice beach with nearly white sand and clear water as you can see on the pictures below.
We also went sknorkeling – but there weren't so many fishes, it was somehow boring.
This was another beautiful day. It was amazing – outside of the bay the rough sea, and our ship wiggling in front of Ilot Gabriel. And the only people there: our sailing group –  it was calm and very relaxed. After we had a delicious dinner (again) and excellent wine we fell asleep very soon.
3rd day – Coin de Mire, Mont Choisy, Grand Baie
Today we went to Coin the Mire, were we did some snorkeling in the cristal clear water. There was a strong current and we had to be careful not to come very near to the cliffs. We stayed there about 1 ½ hours. You can see nothing special here. Wildcafe was diving on 9m depth and he found a big sea shell.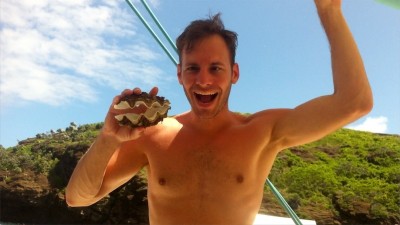 After that we went to Mont Choisy. The turquoise sea here was spectacular and we had really fun with our paddel boat. We also booked a speed ride.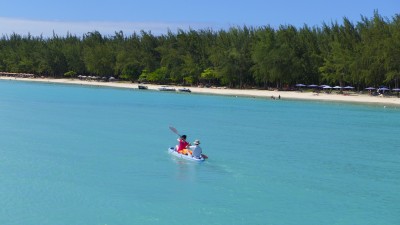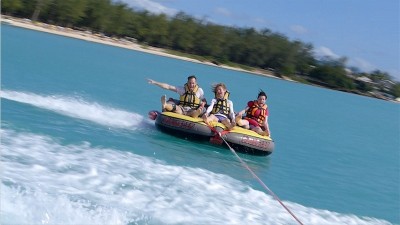 WOW that was really great ride! We booked a second session, because it was so much fun. The price is 600 MUR (14 Euro) per person for the small round and if you would make it twice as long (what we did), it costs you 800 MUR (19 Euro) per person.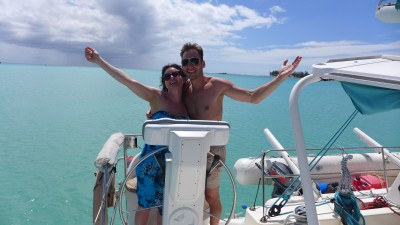 In the evening we went to our final destination Grand Baie.
You can read in travel guides, that Grand Baie is one of the the most lively spots of Mauritius. We expected discos, nightlife and much more…
Hmmm, now here is the truth – well there are some shops, a big entertainment- and shopping-center. The shops close at 6.30 and then it's really quiet.
We stayed there overnight with a delicious dinner (did I mention that?) on board. On the next day we got up very early at 8am to hence to our next accomodation on Mauritius.
Here some final impressions of Grand Baie and our sailing crew:
The catamaran trip is really worth it. Although we have to mention that the offer is not clear enough, telling you that you get 4 days while it's in total just 2 ½ full days! The trip starts in the mid of the first day and stops early in the morning of the last day. Although the delicious food and the nice crew compensated that a little bit.
A great service by the way: our next stay was the Merville Beach Resort. Our skippers just dropped us there directly on the hotel's beach with our lugagge.  Can you imagine. This is really funny. The hotel crew was completely stunned, that we arrived directly on the beach.
Read more about this story in our article about the Mervile Beach Resort…
Related Posts
---
---
Your opinion on this?
Fatal error: Uncaught Exception: 12: REST API is deprecated for versions v2.1 and higher (12) thrown in /home/.sites/42/site7934606/web/wp-content/plugins/seo-facebook-comments/facebook/base_facebook.php on line 1273