Yeah, it was the  first time we went to Miami Beach and the Winter Music Conference.
A cool spot in the world with white beach, palms, warm and sunny wheather – the whole year. We loved it! Actually we wanted to stay 4 days, but we liked it so much, that we added 3 more days.
Party scene and Nikki Beach
Miami Beach has an interesting party scene. For example on Nikki Beach. It's very expensive there, renting a bed costs about $2000. Then you are lying there, surrounded by people who dance. We didn't understand why it's so desirable to have a bed there, paying a lot of money and then you are there…just lying and maybe slurping a champagne that's far too expensive.
Well, that's Nikki Beach. But we were surrounded by beautiful girls, boys and bodys…worth much more than 10 beds.
Party at Clevelander hotel
The party at Clevelander was a banger. It was on the roof of this hotel, a great ambience! And we got to know to Gile, a nice guy from Philadelphia, who had a room in the hotel and got us in.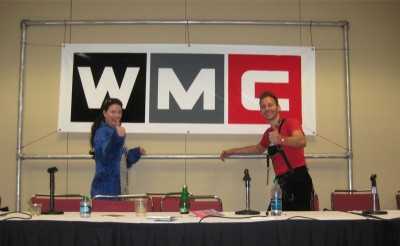 The Winter Music Conference
The Winter Music Conference was one of the main reasons why we came to Miami. A come-together for professionals of the (electronic) music scene from all over the world.
The conference itself was not so well organised than the ADE in Amsterdam. Especially on the first day: too many people have been waiting almost 2 hours to get in.
But: the quality of the workshops in Miami was higher than in the Netherlands and the people are more open minded there.
We stayed for 4 days and learned a lot about marketing, positioning yourself and building your musical identity in the electronic music scene. So we think the overall quality of the event is superb.
We got to know many nice people. They have been so friendly and open minded, we enjoyed this a lot.
Here are some Italian guys, who make amazing music and also got a deal with Will.I.Am's record label right at the conference.
We also met a lot of people who already "have done it" in the electronic music business. They gave us good impressions of their secrets of success. Nice inspiration though!
Here are Danny Tenaglia and "mr. oversmiling" Carl Cox just to show you some of them.
Miami has a lot of latin fever because of it's many Cuban immigrations.
So we just had latin rhythms in our brains the whole time. In combination with the hot boys and girls surrounding the scene we created this beautiful, hot and ass-shaking track and the corresponding video. Just have a look and enjoy it:
Related Posts
---
---
Your opinion on this?
Fatal error: Uncaught Exception: 12: REST API is deprecated for versions v2.1 and higher (12) thrown in /home/.sites/42/site7934606/web/wp-content/plugins/seo-facebook-comments/facebook/base_facebook.php on line 1273