Searching for the perfect beach on Mauritius
White sand, turquoise-blue sea that's what we  wanted. The agency told us – go to Maurice.
So we decided spontaneously to to the  "dream island"!
Starting on 16th of march we went on a 3 week journey to several hotels and accomodations on Mauritius and several days in Dubai.
We went by Emirates.  We really can recommend this airline. It has good food, good entertainment program with new movies. Wildcafe also got power to work with his laptop.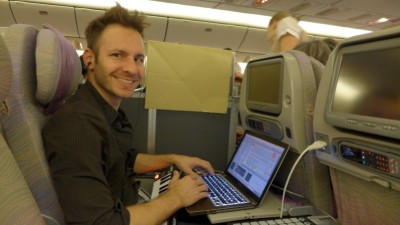 See below for some updates!
[UPDATE 2014-03-25]
We didn't finish the blog entries for our stay here but we've just finished the song! It's called "Dana & Wild – Schweinsgalopp On Mauritius".
It's very inspiring here, although it's not as looking as we expected it to.
Currently our song "Dana & Wild – Schweinsgalopp On Mauritius" is in promotion through www.kingsofspins.com and we will post it here soon.
The video is also in the making and it will be very funny: we ask people here to jump for us. I think the video will be really funny.
Here's the song, there will be also a club mix and a mix without the mc vocals!

Related Posts
---
---
Your opinion on this?
Fatal error: Uncaught Exception: 12: REST API is deprecated for versions v2.1 and higher (12) thrown in /home/.sites/42/site7934606/web/wp-content/plugins/seo-facebook-comments/facebook/base_facebook.php on line 1273